Dodge Betrayed Dr. King's Legacy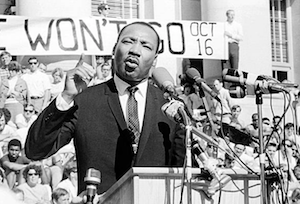 By Todd Bernstein | February 7, 2018 As a long-suffering, diehard Philadelphia Eagles fan, I was transfixed watching Sunday night's Super Bowl 52 TV broadcast. Even after ten miserable days with the flu, then pneumonia, nothing could keep me from cheering on our Birds.
Most years, when the Eagles had been eliminated from contention for the big prize, I joined millions as a curious watcher of the much ballyhooed Super Bowl commercials, perhaps made more intriguing by the hefty cost—this year, $5 million was the going price for a thirty second ad.
But last night, for me and my family, this was THE game. This was ALL about football. So, I wasn't paying much attention during breaks in play, until I started hearing the iconic and moving words of Dr. Martin Luther King, Jr. from his Feb. 4, 1968 "Drum Major Instinct" sermon at Atlanta's Ebenezer Baptist Church, exactly fifty years ago to the day:
"Everybody can be great...because anybody can serve. You don't have to have a college degree to serve. You don't have to make your subject and verb agree to serve. You only need a heart full of grace. A soul generated by love."
As someone whose life—personal and professional—is built around civic engagement, social justice, and the teachings of Dr. King, the words echoing from my TV instantly got my attention. But, my immediate happiness from hearing Dr. King's words turned to disappointment and disgust when I realized Dodge was using his revered religious sermon to sell trucks.
Twitter and Facebook instantly lit up with expressions of outrage, directed almost exclusively towards Dodge for shamelessly appropriating Dr. King's words to sell trucks.
But, I instantly suspected a critical, missing component. I knew this commercial could not have been produced and shown without the endorsement of an always protective King family through the intellectual property company run by Dr. King's son, Dexter, and without hefty compensation. There is also precedent, as I saw a TV commercial years before with animated visuals of Dr. King, along with authentic audio, sanctioned by the family.
A well-known celebrity hawking a commercial product is what we have come to expect from expensive Super Bowl ads. However, exploiting Dr. King has always been a third rail. He always eschewed grand trappings and financial reward.
Having been involved in organizing the Martin Luther King of Service for more than two decades, locally and nationally, I am particularly sensitive to the way Dr. King is celebrated and memorialized.
I do not profess that any one way to honor him is best or most appropriate. The purpose of the King Day of Service is to celebrate his legacy in the way the organizer(s) feels most relevant. A sense of ownership and sustainability are key.
I do not have standing to tell members of Dr. King's family how to memorialize him. Dr. King's legacy also belongs to all Americans, though. However, for those who revere his life and attempt to promote his ideals, each and every day, commercial exploitation crosses the line.
Todd Bernstein is a civil right activist and president of the non-profit, Global Citizen. He helped found the National Martin Luther King Day of Service, along with Pennsylvania US Senator Harris Wofford and Atlanta Congressman John Lewis, both veterans with Dr. King in the civil rights movement.