Depressed About Politics? Get Engaged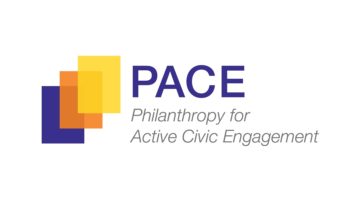 This week, we had a chance to sit down with Kristen Cambell, the Executive Director at the Philanthropy for Active Civic Engagement (PACE). The subject? How everybody can and needs to get engaged in this polarized, politically-charged time. Your organization focuses on civic engagement. Can you define what civic engagement means, and why it's so important?
Great question. The truth is, there are nearly as many definitions of civic engagement as there are people engaging. We define it as "the process of helping people be active participants in building and strengthening their communities, whether 'community' is defined as a place or a shared identity or interest."  Broadly speaking, it's about generating a sense of agency and purpose in people and helping them be part of something larger than themselves.
We've been getting this question a lot lately, so we created a few resources to help respond and illustrate the constellation of work happening in this sphere: the first is the Civic Engagement Primer, which is a resource we designed to help explore questions like "what is civic engagement and how does it relate to my work?" and help funders assess their interest and understanding in this work, with the ultimate goal of helping them along their journey toward integrating civic engagement into their portfolios. We've also developed a video metaphor about civic engagement being a like a house--it aims to visualize the ways in which funders and practitioners work together to create the larger whole of our field, and how each piece of civics interacts with the others.
In short, at PACE, we believe civic engagement isn't about telling people how to think, feel, or act, but about helping Americans be part of America--the house we all share.
Right now, there's a lot of talk about polarization. What do you think citizens can do to help address this pressing issue?
Another great question. At the start of 2017, we set out a strategic plan that focused on three areas: health and safety in communities, civic learning, and the third was what we've called broadly "bridging divides."  One thing that's become clear to us as we delve into the question of how to bridge divides and difference is that we all need to appreciate the layers of identity that citizens bring to civic spaces, and our lives. We are complex beings with numerous social identities, and as Walt Whitman would say, "I contain multitudes."  
The reality we're discovering is that the civic discord and divides we face is much more complex than simply "red vs. blue," and we need to add depth to that binary way of viewing "the divide."  Through our exploration, we are finding that this moment of divisiveness and hyper-partisanship is a reflection of a disconnect between the way democratic institutions engage citizens and the ways in which citizens understand their own social identity — their own lives, jobs, religious views, race, gender, geography, and other variables. PACE Fellow, Decker Ngongang, is leading this work, and you can read more about our approach in our Annual Reflection. We will be sharing more formally about our learnings later in the year, and encourage you to visit our website and follow us on Twitter for ongoing updates.  
One thing that Decker has been encouraging us to think about is whether we should aim to bridge divides, or rather acknowledge difference as a potential strength and place to start a conversation. In that spirit, I'll close with this: At a recent event in DC, Reverend Jennifer Bailey reminded us to consider the difference between building bridges and meeting one another at the borders. That being with one another in difference, truly encountering one another without intentions of reaching a destination, is something that is often overlooked.  And that's something each of us can do every day.
I think a lot of people are looking for solutions to civic/political issues that came outside of politics. What role do you think philanthropic organizations can play right now in creating change? Can you point to a foundation doing exemplary work to improve civic life?
I can point to over 50 exemplars, actually! Our members all share a belief that America will be healthier, more successful, resilient, and productive if democracy is strong and the office of citizen is treated as central to how it functions. That sentiment is what brings us together at PACE, and each of our members is committed in a variety of ways to that vision. Just one post-election example of funder response is the "Helping People Get Along Better Fund" from the Einhorn Family Charitable trust. I could fill your blog with others, so maybe that's another post for another day.
Today, our democracy faces a multitude of challenges--not the least of which is a deteriorating sense of trust in our institutions. But even against the backdrop of this political tumult, one thing we do know is that, by and large, the American public does trust the philanthropic sector--more than any other institution. This dynamic reinforces the responsibility of our philanthropic sector to take a leadership role in strengthening the foundations of our democracy and to create pathways and avenues which empower people to participate in civic life and address (and hopefully solve) the challenges we are facing.   
As our house metaphor illustrates, there are a multitude of ways to do civic engagement, and our members work at every facet of the field. Broadly speaking though, philanthropy can be more intentional about leveraging its leadership in convening--bringing people together who share a commitment to this work. We also have a responsibility to lift up the voices of those who are on the ground making a difference--and resourcing them efficiently and effectively. Finally, continuing to build the infrastructure for philanthropy and civic engagement is important as well; we are persistently seeking ways to deepen our understanding of the issues we work on and strengthen the practices of philanthropy and democracy.
A topic that matters a lot to me personally is civics education. How does it fit into the civic engagement space? Are there any exciting developments in the field that should offer comfort to those who see scary numbers about America barely knowing their country?
Absolutely. Civic learning is central to what we do at PACE (and we use the term civic learning to reflect a broad vision that includes the education that happens in schools, but also the experiences out-of-school and in communities as well). Civic learning ensures our nation's young people are equipped with the knowledge, skills, and dispositions that will serve them throughout their lives and create a culture and practice of civic engagement. Earlier last year, we also released the Civic Learning Primer, which introduces the importance of investing in this work and frames several considerations for philanthropy to further investment in civic learning. We collaborated on the CivX Summit, which convened leaders from across the country and across sectors to talk about how we can improve the landscape of civic learning in our country, with the understanding that effective civic education is foundational for our democracy (and helping people know and understand each other and their country).
The reality today is that our nation's young people do not have equitable access to the tools and information they need to be actively engaged citizens: young people from lower-income families in rural and urban areas, in particular, have fewer civic learning opportunities and, as a result, experience diminished levels of participation in civic life.  These disparities deepen existing social divisions and inequities in our nation.   
To further explore the intersection of civic learning and equity, PACE co-hosted a salon discussion with the National Conference on Citizenship (NCoC) at their 2017 Conference entitled "Civic Engagement as a Pathway to Equity and Opportunity." Panelists and participants explored civic learning as a tool to equip communities in addressing the challenges and divisions they face, and identify tangible ways philanthropy and other leaders can support and invest in civic learning as a mechanism to influence equity and opportunity outcomes. In March, PACE and NCoC are hosting a working session where we'll develop an action plan for our field to move this vision of equitable and effective civic learning forward. We look forward to sharing more about what comes from that effort.
If someone is frustrated with the state of politics right now, what are three ways they can get involved that isn't activism for either party?
Get engaged--that can take shape in three ways or a hundred ways. Our approach to civic engagement is intentionally broad--in fact, this "civic engagement spectrum," a handout that accompanied our Primer, aims to illustrate the kinds of activities that citizens can undertake to get involved. And most of them can be separate from politics. The point being, find something that matters to you, and take part in it.  
Often people associate the term "civic engagement" with things like advocacy, organizing, and voting. And those are all absolutely forms of civic engagement--but so is helping your neighbor with their groceries, volunteering at your church or school or homeless shelter, and giving money to local charities. One of the most powerful articulations I've heard of this point recently was from philanthropist Lyda Hill who said: "When you volunteer, and when you give, you get to vote every single day on what matters to you." Research even indicates that volunteering is great for mental health and that young people who are civically engaged are more likely to be financially and professionally successful than their un-engaged peers. There are many indicators of economic benefit as well--for both individuals and communities. Across our country, in every community, there are people doing work to make it a better place to be. Look for those people and join them.