Beware the Bubble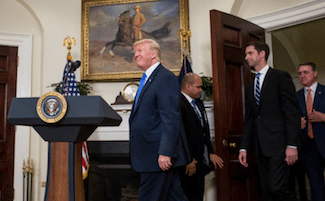 Beware of the bubble. Donald Trump has been president for about 400 days now, and despite a lot of handwringing, the world has not come to an end. It looks like we'll survive this presidency—although there'll be an enormous void as to how we'll be entertained post-Trump administration, whenever that might come.
Last December, Maggie Haberman, Glenn Thrush, and Peter Baker reported in The New York Times, "Before taking office, Mr. Trump told top aides to think of each presidential day as an episode in a television show in which he vanquishes rivals."
For entertainment value, this administration's a hit—just look at this week.
Monday, we were introduced to the "full Nunberg" as former Trump campaign staffer Sam Nunberg said—on virtually every TV show that exists—that he would defy a request to testify in front of special counsel Robert Mueller. (By the way, by Friday, he spent 6 hours testifying before Mueller's grand jury.)
Tuesday, a porn star filed a complaint against the president because she wants court permission to tell her story. That same day, two hours after President Trump said, "Everybody wants to work at the White House," Economic advisor Gary Cohn resigned.
On Wednesday, embattled attorney general Jeff Sessions scolded California over immigration.
Thursday, we learned that Trump had spoken to witnesses who have already appeared in front of Mueller about their testimony. We also discovered that pre-inauguration, Erik Prince, the Blackwater founder (and Betsy DeVos' brother), led efforts in the Seychelles to open a back channel communication with Russia. That afternoon came with perhaps the most stunning news of all: the president would meet with Kim Jong Un, the North Korean dictator he had previously derided as Little Rocket Man.
And to cap off the week, Friday came with the news that Trump's personal lawyer Michael Cohen says he used his own home equity line to pay 130-thousand dollars to Stormy Daniels. How did he negotiate the settlement? From his trump.org email account, while maintaining he never told the president.
Keeping up is exhausting. It's also sometimes misleading.
There's a tendency to focus on the chaotic. The turnover, the personalities, the inter-White House warfare, the salacious details all make for exciting reading and gossiping.
However, while it's certainly true that President Trump's tenure has been a bumpy ride, it would be a mistake to see the president only through a media lens. Not while the Dow is still climbing, as it closed Friday up 441 points and has gained 38% since Trump took office. Other economic figures are strong, too. Americans are seeing more of their paycheck due to the tax cut, and the jobs numbers increased 313,000 last month to keep the unemployment rate low at 4.1%. While economists might not be happy with his protectionist policy with regard to steel and aluminum, I can tell you who is: high school educated working men most responsible for putting him in office.
Those same Americans will determine the outcome of the Pennsylvania special congressional election on Tuesday and the control of the congress in November. As Mike Allen pointed out this week at Axios, remember that Democrats are defending 10 senate seats in states Trump won in 2016—and in 6 of them, his approval rating is higher than 50%, nearly 10 points above where he is nationally.
That doesn't bode well for the D's getting the 2 seats they need to win to control the world's oldest legislative body. Plus while Quinnipiac this week had Democrats up 48-38 on which party should control the house, that gap is actually a smaller one. Last month the Dems were up 53-38.
The only thing certain is that this wild, disruptive ride will continue for as long as Donald Trump is president, a tenure ultimately to be decided by voters, or Robert Mueller. In the meantime, the continued reports of the president's political demise seem greatly exaggerated.