Trump's "Economic Afghanistan"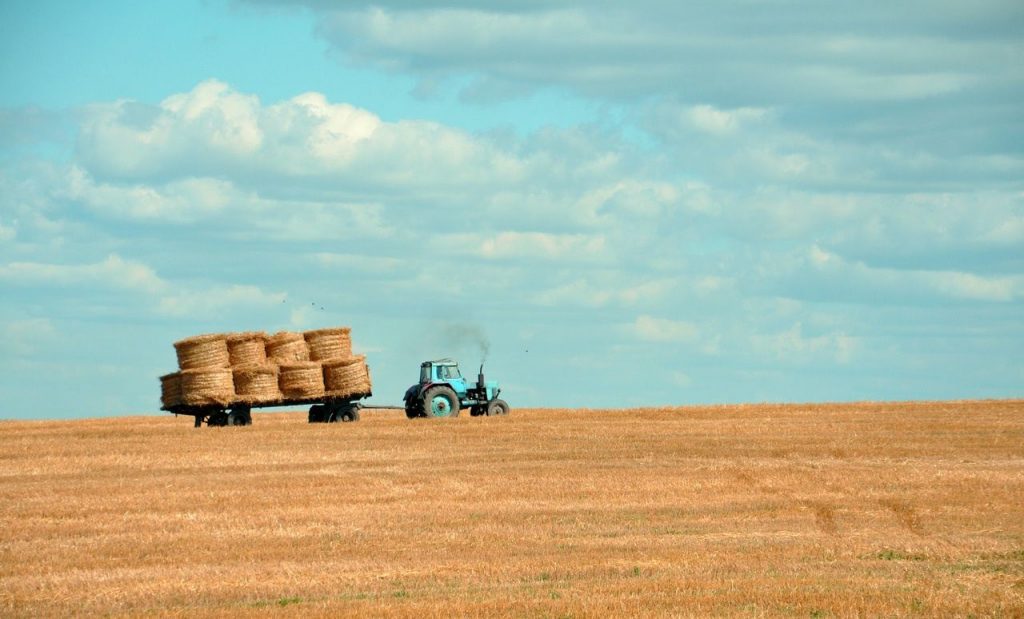 Trade wars and rumors of trade wars. They both have consequences. For quite a while now, Trump has repeated demands that NAFTA be renegotiated. Administration officials had told Canada and Mexico that May 17 was the deadline for creating a text that could be dealt with by the current U.S. Congress, and although that deadline has come and passed (possibly kicking the new deal to 2019), the consequences of this administration's unpredictability are far-reaching.
Trump regularly threatens to walk away from NAFTA, causing the negotiations to be held under the dark cloud of uncertainty. Business executives complain that this lack of clarity is hurting new investments. But they have it easy. Farmers have it way tougher.
Since 1994, NAFTA has opened important markets for farmers and ranchers: U.S. agricultural exports to Canada and Mexico have quadrupled, food and agriculture exports to Mexico and Canada now account for 25% of all American exports, and one in ten acres of American crops are destined for export to our NAFTA partners. 
In addition, NAFTA has fueled the growth of agriculture-related industries, helping them to grow enough to support more than 43 million jobs. Agriculture supports more than 20% of the U.S. workforce, provides more manufacturing jobs than any other sector, and supports $127 billion in annual economic activity. 
Mexico has long been the top importer of U.S. corn and is the second-largest buyer of U.S. soybeans. Yet in the months after Trump took office, in light of his threats to tear up NAFTA, Mexican government officials and grain buyers visited Brazil and Argentina to explore alternative supply options. So whereas Mexico didn't import any Brazilian corn in 2016, last year they imported nearly $44 million of it between September and December alone. Mexico is now on track to buy 10 times more corn from Brazil in 2018.
Someone messed up.
Farm and trade groups here in the U.S. point out that a trade war or increased tariffs on grains will most hurt one of the electoral constituencies that carried Trump to power. And Trump has acknowledged this himself. During his campaign, Trump promised farming communities that agriculture would benefit from his presidency. That clearly has not happened. But during his Michigan rally a few weeks ago, Trump acknowledged that farmers would feel the pain:
"I tell you, our farmers are great patriots. They understand that they're doing this for the country. And we'll make it up to them."
"We'll make it up to them." Another promise.
Hold that thought for a moment. Because to this point, we've only been talking about NAFTA-related implications for farmers.
Trump has also threatened to impose tariffs on as much as $150 billion of Chinese goods in an effort to punish China over practices involving intellectual property violations. China, of course, promised to retaliate. Talks between the two sides in Beijing have so far failed to yield a deal, but they continue to talk and offer solutions, which is good. But in the meantime, those patriotic farmers are already making the sacrifice.
The United States is the top exporter of pork in the world, exporting hogs and pork to more than 100 nations, which supports 110,000 American jobs. The United States shipped 1.09 billion pounds of pork with a value of $1.078 billion to China and Hong Kong in 2017. Those exports are in trouble.
China imports about 60% of the world's soybeans, 100 million tons annually buying $14 billion, 30 million tons last year from U.S. growers. Once Trump threatened to slap tariffs on steel and aluminum imports from China, China took its business elsewhere. Brazil's soybean exports to China more than doubled, while U.S. sales to China dropped more than 20%. The Chinese claim that the beans from Brazil contain more protein. They also claim that the US bean tonnage includes more than 1% detritus like weed seeds, and have subjected shipments to extra vetting or cleaning at Chinese ports, creating delays.
Chinese soybean imports from the U.S. could drop by as much as 71% if China were to impose trade restrictions on U.S. soybeans. 
On top of that, China placed 25% tariffs on certain U.S. imports --  including pork and soybeans. Chinese buyers are looking to Australia as an alternative to US exports.
Trump's initial response? He directed Larry Kudlow, his new director of the National Economic Council, and U.S. Trade Representative Robert Lighthizer to "to negotiate U.S. entry into TPP."
This is the same TPP that he railed against during the campaign. However, withdrawal from the TPP – a proposed deal between the U.S. and 11 Asia Pacific countries –  was one of Trump's central campaign promises in part because it was a core element of former Obama's strategy to counter China's influence in the region. And so one week later, Trump reversed his reversal:
"While Japan and South Korea would like us to go back into TPP, I don't like the deal for the United States. Too many contingencies and no way to get out if it doesn't work. Bilateral deals are far more efficient, profitable and better for OUR workers. Look how bad WTO is to US."
South Korea is not a party to the TPP, but no matter. Someone got to Trump and he changed his tune. Remember how Kerry was called a flip-flopper?
So where does this leave U.S. farmers?
Newt Gingrich used to call President Barack Obama the "food stamp President." And during the financial collapse and its' aftermath, plenty of people were forced onto SNAP—many of those people with full-time jobs.
It prompts me to suggest that Trump is in danger of becoming the "Suicide Prevention Hotline President." Here is why: in the last few months, dairy marketing cooperatives have provided suicide hotline information to members along with milk checks. In an effort to turn the tide on the unacceptably high rates of suicide among farmers, Congress introduced the Stemming the Tide of Rural Economic Stress and Suicide (STRESS) Act (H.R. 5259) to make mental health treatment more available for farmers, ranchers, and agricultural workers.
What Trump is doing to farmers with his talk of tariffs and self-inflicted trade wars is causing extreme despair in the heartland of America- we're talking Iowa, Nebraska, Kansas, Wisconsin...you know: Trumplandia.
Now, because I'm a more fair-minded person than Newt Gingrich, I will stipulate up front that suicide rates among farmers are in general the second-highest of any job right now. According to a recent study of workplace suicides between 2003 and 2010, published in the American Journal of Preventive Medicine, jobs with the highest suicide rates include protective service occupations (police officers and firefighters) with 5.3 suicides for every 1 million workers. Farming, fishing, and forestry jobs collectively follow closely behind with a suicide rate of 5.1 per 1 million workers.
So farmers generally have it pretty tough. But not like this: Trump is cultivating a crisis that is threatening farmers' livelihoods and the lives of their families. And while he can back down, back up, reverse, full steam ahead or drop anchor, they can't.
In Iowa, some estimate that 10% of the state's farms will fail in the coming year. Workers have begun comparing the situation to the 1980s farm crisis, the industry's worst period since the Great Depression.
One thing comes immediately to mind. Associated Press reporter Peter Arnett once quoted a memorable explanation for the destruction of a village in Vietnam:
  "It became necessary to destroy the town to save it."
The impact of these tariffs and threats will have reverberations far beyond the farm and the fields. Adam Posen, president of the Peterson Institute for International Economics, recently wrote that the most worrying aspect is that there doesn't appear to be a defined goal for success.
"Trump's soundest argument in his election campaign was that he would not waste American lives and treasure in pointless wars of choice," Posen wrote. "His launching a trade war would prove, however, to be his economic Afghanistan — costly, open-ended, and fruitless."
Corn-less, soybean-less and hog-less.
For US farmers, this is becoming a life-threatening catastrophe.