Rosenstein's Gift to Trump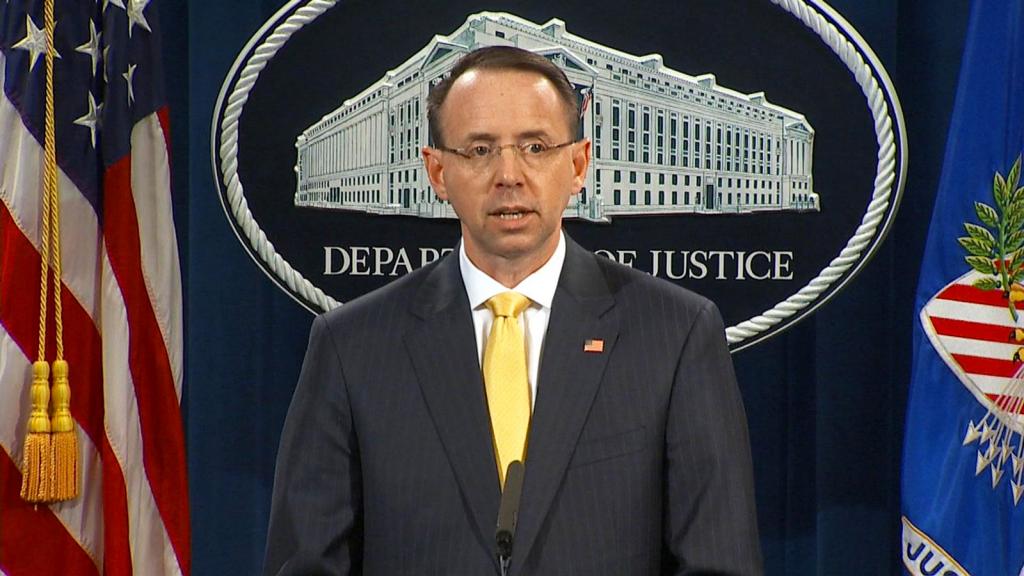 With regard to the twelve Russian officers indicted for interfering in the 2016 election, I want to challenge one part of the conventional wisdom.  Namely that the timing poses an awkward, diplomatic disaster for the president. To the contrary, it may have done him a favor- if he's willing to seize it.
Think this through with me.
The announcement came yesterday, just three days before President Trump sits down in Helsinki with Russian President Vladimir Putin. To be sure, the anticipation of the Friday midday press conference by Deputy AG Rod Rosenstein presented an unusual juxtaposition.  On television screens, the Rosenstein presser was about to compete for attention with the president's formal arrival for a meeting with Queen Elizabeth. But technical directors were spared -  Rosenstein was curiously 30 minutes late to the announced start time of his announcement - giving the president the time needed to complete his review of the Queen's guard at Windsor.
That's not all that seemed choreographed.
Rosenstein then revealed that he'd briefed the president on the indictments in the days prior.
"I briefed President Trump about these allegations earlier this week. The president is fully aware of today's actions by the department."
That means that for the last few days, during which he continued to call the Mueller probe a witch hunt, the president knew proof to the contrary what was coming.
Even a few hours before Rosenstein's announcement, at a joint press conference with British prime minister Theresa May, Trump said that while he would raise the issue of Russian meddling with Putin, he cautioned that he didn't expect a perry mason moment to result.
"I don't think you'll have any 'gee, I did it, you got me,' " Trump said.
Rosenstein then spelled out his findings in an unusually specific, 29 page, 11 count indictment of 12 Russian military officers.  Immediately thereafter, the Deputy AG's revelations prompted some, including Senate Minority Leader Chuck Schumer, to call for the cancellation of the Trump/Putin summit.
"Glad-handing with Vladimir Putin on the heels of these indictments would be an insult to our democracy," Schumer said shortly after announcement of the indictments.
That won't happen.  But maybe confrontation will.
While the president has been loath to hold Putin accountable for Russian meddling, he's just been handed the goods with which to do so - and it will highly embarrassing for him not to do so. In other words, Rosenstein did Trump a big favor.  He just gave him the basis for a re-set. In fact, you have to wonder if it was planned this way.
I don't believe in coincidence.  Are we really to assume that this indictment just happened to come on the last business day before Trump meets with Putin? No way. This was deliberately timed by Rosenstein to send Putin a message right before the summit, and in advance of the American midterm elections.
Whether President Trump was part of that deliberation we may never know.  Surely when Rosenstein briefed him earlier in the week, Trump could have at least requested that the announcement be delayed until after the summit.
But we will learn on Monday whether president trump is finally prepared to stop the charade of crying witch hunt and use the tools Mueller and Rosenstein just handed him to be America's advocate. Maybe he will even demand the extradition of those who've just been indicted for meddling in our election.
One can hope.