Preserving the Supreme Court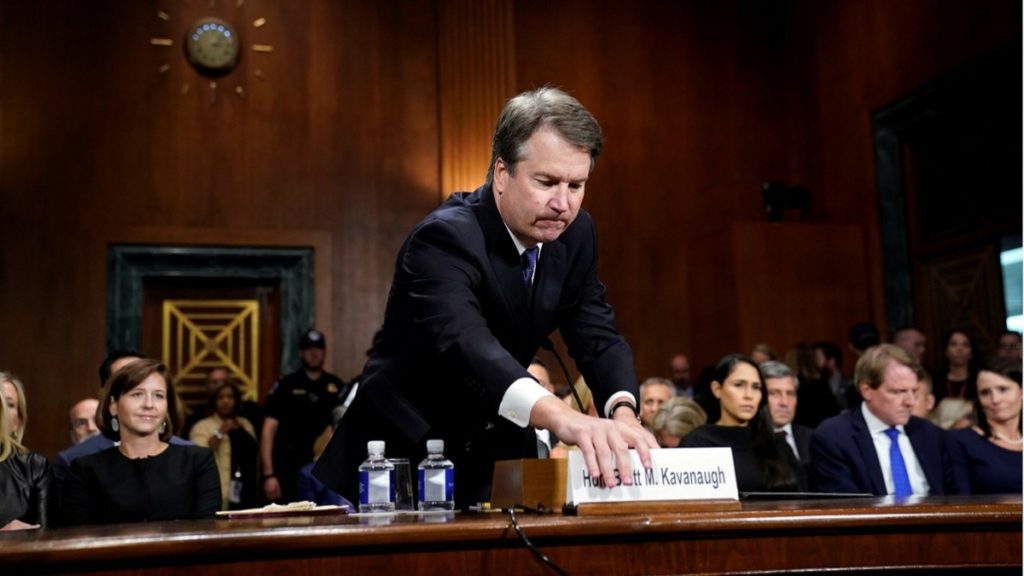 We are now in the midst of a one-week "overtime period" in which the FBI is allowed to continue a background check surrounding Brett Kavanaugh and at least two of his female accusers. There was a completed "hail Mary" pass into the end zone, a ninth inning, two-out home run tying the game that arose from civility, humanity and a bipartisan kumbaya moment between Senators Flake and Coons. This resulted in Republicans backing the FBI re-entering the mix. Flake and Coons pulled us back from the brink, the abyss of what tribalism in politics can do to destroy our country. However, will the scope of this investigation as ordered by Trump be one by the "fox guarding the chicken coop" or one to test the true credibility of Kavanaugh and Dr. Ford's respective assertions? Doubts abound. Questions swirl around Kavanaugh. The public is piecing together a puzzle that will collectively evaluate him, not limited to his judicial career or his fitness to serve on our nation's highest court. We can't dismiss these thoughts, the most objective observer can't ignore that there are gaps in Kavanaugh's testimony and even downright multiple false or misleading statements he told the Senators (maybe except Lindsey Graham). You can look at his calendar entries, yearbooks, and his drinking habits detailed by fellow Yale students. Even his telling that he never watched Dr. Ford's testimony before offering his own has been credibly challenged.
The disrespect he showed toward his Senate examiners, especially to Senator Klobuchar, is troubling. It's almost as if this behavior is due to a predisposed entitlement given his upbringing and his considering the committee standing in his way of the highest court. Yes, all the accusations stem from his life years ago, but his testimony under oath comes from a present-day adult who also happens to be a federal appeals judge.
Former FBI Director James Comey, in a tweet last week, offered another perspective worthy enough to factor into the calculus:
Small lies matter, even about yearbooks. From the standard jury instruction: 'If a witness is shown knowingly to have testified falsely about any material matter, you have a right to distrust such witness' other testimony and you may reject all the testimony of that witness…' "
Kavanaugh claims not knowing the definition of slang like "Devil's Triangle," "boof," "Beach Week Ralph Club," and "100 kegs or bust." Then there's his not knowing of stolen emails from Patrick Leahy's office and friend Leland Kaiser's statement that supported him, both false. And we cannot forget that Trump says he did more vetting than for any other high court nominee in modern history. Hardly. These examples have the ring of the small lies to which Comey no doubt referred. Where there is a seemingly considerable amount of smoke, there must be fire.
The full Senate that will decide Kavanaugh's fate is not a court of law where guilt beyond a reasonable doubt is decided according to how it is instructed, and thus any jury instruction is irrelevant to the decision of this chamber. The words of this instruction are useful since it reflects that to which Kavanaugh in recent days and weeks has testified.
The Comey reference is also useful in another, more poignant way, directing us to that branch of government charged with rendering fair and impartial decisions. It is not just to any court, but to the nation's highest tribunal, where nine Americans serve as justices with a lifetime appointment and decide issues that will cause a ripple effect on our American way of life. This is not only the arbiter of final and conclusive judgments, but also an institution imbued, above all else, with trust, honesty, and integrity. This institution's calling card must not only reflect these traits but also lack blatant expressions of political leanings as we have seen expressed by Kavanaugh. We need only harken back to the impeachment of Justice Samuel Chase in 1805 to know why.
Given Kavanaugh's outbursts during his examination before the Judiciary Committee, referencing his so-called treatment from the Democratic senators, he joins Justice Chase in that he sounded more like a political operative running for public office than undergoing a job interview for Justice Kennedy's vacated seat. The language he used and the demeanor in which it was said are more than indicting for him. Is this attitude what we want in our nation's Justices? Do we want to see our Supreme Court become "infected" with a Kavanaugh whose views are steeped in political bias?
Keep in mind Rule 1.2 of the American Bar Association on "Promoting Confidence in the Judiciary," which reads:
A judge shall act at all times in a manner that promotes public confidence in the independence, integrity, and impartiality of the judiciary, and shall avoid impropriety and the appearance of impropriety.
It's clear to me that Kavanaugh does not meet the connotation and denotation laid out by this rule, based on his performance last week.
I've appeared before the Supreme Court a few times, and those who haven't graced the historic court, it is hallowed ground known through the justices for its dignity, respect, decorum, and temperament.
After the rancorous hearing last week, historian Jon Meacham observed that what was going on with the Republicans on the Judiciary Committee was not seeking or evaluating justice, but exercising their power. Raw power by the majority to prevail politically at all costs, without regard to whether justice for the nation was being served. The chest pounding was nauseating and is unacceptable for our democracy; it was inimical to ensuring the rule of law and parsing out justice fairly and evenly. It was certainly void of humanity and respect. Meacham's accuracy was spot on, given the political dynamics at work and the midterms weeks away.
The Supreme Court is and can never be a pawn in a political power play, despite the Republicans' best efforts to ensure this with their current nominee. If it were to happen, the nation will have lost all respect for the court's opinions and decisions with Kavanaugh's name attached to them. A bad elixir that will surely taint and tarnish the Court for years.
It remains to be seen whether Kavanaugh embodies the trustworthiness, background, and temperament required of a Justice. With current media reports of Trump's limiting the scope of the FBI investigation to exclude buddy Mark Judge's Safeway work, contradicting testimony of his drinking habits and precluding the corroboration of accuser Julie Swetnick's allegations among others, the glass is presently half empty. Not half full.
Certainly, any Justice, be it him or another, must never become a shill for a sitting President or his political party in deciding issues or cases. That will be the downfall of the Supreme Court as a revered and independent co-equal branch of government. With the additional data and facts that the FBI cobbles together -- assuming Trump doesn't limit their access to seek all credible and relevant leads -- there can be only one mandate for the Senators sitting in judgment of Kavanaugh. The Supreme Court's honor and reputation as the last vestige of truly impartial decision-making cannot be forsaken by offending it with the reckless tribalism displayed last week in the Judiciary Committee's hearing, and with the falsehoods, political leanings, and demeanor shown by the nominee himself.