Small Gesture for a Real American Hero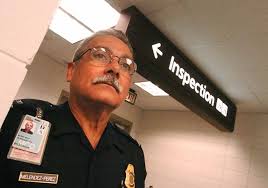 Jose Melendez-Perez, one of the great unsung heroes of 9/11, felt a roomful of Brotherly Love last week. Arguably, it's Melendez we can thank for the fact that Flight 93 never completed its mission of striking a symbol of democracy in Washington and instead crashed into a field in western Pennsylvania. Melendez was feted at a luncheon in his honor sponsored by my radio station, the Big Talker 1210, at the Union League.
A confab of conservative Republicans? Not exactly.
Particularly when Rep. Bob Brady, head of the city Democrats, stood up to present Melendez with a flag he flew in his honor over the Capitol and thank Melendez for saving his life.
Still, no amount of recognition could ever fully thank Melendez for what he did while performing his job back on Aug. 4, 2001.
It was Melendez, an immigration inspector, who stopped Mohamed al Kahtani when he tried to enter the United States at Orlando International Airport. Kahtani was a Saudi national who was directed to Melendez because he had incorrectly filled out a customs declaration. Kahtani claimed not to speak English. Melendez put Kahtani into his computer, and it came up negative. His documents seemed genuine. A check of his possessions was unremarkable.
But Melendez still didn't let him pass. Why? "My job requires me to know the difference between legitimate travelers to the U.S. and those who are not," he told the 9/11 Commission. "This included potential terrorists."
Keep in mind – this is a month before 9/11. "Through my INS training and military experience, my first impression of the subject was that he was a young male, well groomed, with short hair, trimmed mustache, black long-sleeve shirt, black trousers, black shoes. He was about 5-6, and in impeccable shape, with large shoulders and thin waist.
"He had a military appearance. Upon establishing eye contact, he exhibited body language and facial gestures that appeared arrogant. In fact, when I first called his name in the secondary room and matched him with papers, he had a deep staring look."
As Melendez would later tell the commission, "He just gave me the creeps." And the would-be terrorist, who claimed not to speak English, suddenly was able to say, when Melendez rejected him, "I'll be back." The next time we encountered Kahtani, he was fighting in Afghanistan. He's now at Guantanamo.
Here's the kicker: What we now know is that at the moment that Mohamed al Kahtani was being given his walking papers by Melendez at the Orlando Airport, there to pick up the new arrival was 9/11 ringleader Mohamed Atta. That was one of the more interesting details to emerge from the work of the 9/11 Commission, and why Democratic 9/11 Commissioner Richard Ben-Veniste told Melendez that his conduct may have spared the Capitol or White House an attack. Ben-Veniste reasoned that, with the added muscle of Kahtani on Flight 93, the terrorists could have fended off the passenger revolt and continued toward Washington.
No wonder Bob Brady wanted to thank Melendez, and that City Councilman Frank Rizzo was present to extend recognition from the city, and that state Rep. Denny O'Brien did likewise for the Commonwealth.
Alice Hoglan, mother of Flight 93's Mark Bingham, sent a greeting from California. Debra Burlingame, sister of Chic Burlingame, pilot of American Flight 77, which crashed into the Pentagon, and Ellen Saracini, wife of Victor Saracini, captain of United Flight 175, which hit the South Tower, both came to extend their gratitude.
From the moment that Lauren Hart sang the national anthem, it was once of those events that no written description will ever be able to fully describe.
And when it was finally time for Melendez to address the crowd, he choked back tears and told the crowd, "I wish my father were here to see this."
Jim Murray, the former Eagles GM and founder of the Ronald McDonald House, then stood to offer a benediction. Murray paused, and said, "Jose, your father was watching today."
There were no dry eyes.