The Power of Pin Money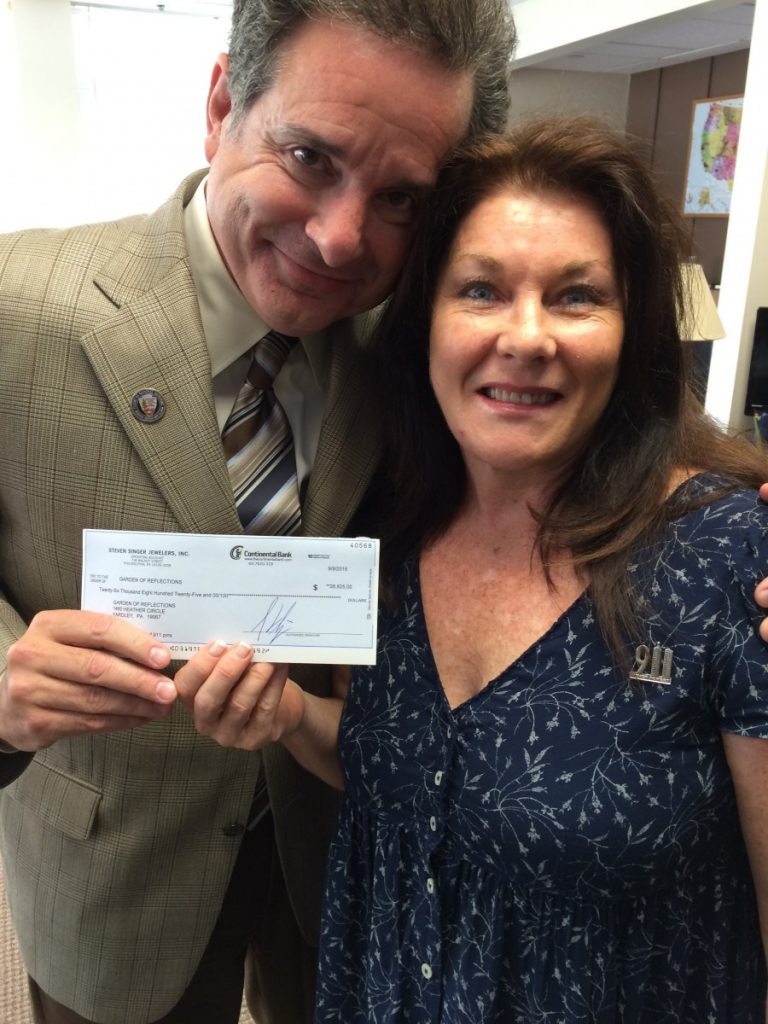 How could anybody hate Steven Singer, given the generosity he's exhibited toward the construction of the Flight 93 National Memorial in Shanksville, Pa.? Over the last year, the man whose unique marketing campaign is ubiquitous on Philadelphia radio and billboards has become a fundraising superstar for this worthy national project.
His role began last September, when I published Instinct: The Man Who Stopped the 20th Hijacker. The book tells the story of Jose Melendez-Perez, the immigration inspector who on Aug. 4, 2001, refused to allow Mohamed al-Kahtani – the intended fifth hijacker on Flight 93 – into the United States. (Neither Melendez-Perez nor I earned a penny from the sale of the book. All author proceeds were donated to the Flight 93 National Memorial.)
Singer, the prominent jeweler here in Philly and a sponsor of my radio program, told me he was inspired to do something.
"Since Sept. 11, 2001, I, like most Americans, felt helpless and very much wanted to help make a difference in some small way," he said.
So he designed the 9/11 "Never Forget" lapel pin pictured here, and began to sell them to my radio audience for $10. He donated every cent to the Flight 93 memorial, covering the production costs and the manpower needed to sell and distribute them – even the shipping fees.
Last year, our effort raised more than $30,000. Three weeks ago, he told me he had a goal for this year. I did, too.
Mine was $50,000.
Singer scoffed – and said his was $100,000.
Well, with two days to go before the ninth anniversary of 9/11, I'm thrilled to say that he was right, and I was wrong. We just surpassed $100,000, with orders shipping to all 50 states.
The response has been staggering.
"I love the pin. Being a firefighter who was on standby for the 9/11 tragedy, it holds a place in my heart that I will never forget that day and everything about it and am a full supporter of the Flight 93 Memorial," one individual wrote to Singer.
"As a survivor from the 105th floor of 2 WTC, I must tell you that your pins are an incredibly fitting tribute to those lost that day and an outstanding way to help us all 'never forget' . . . I now have a small but significant tattoo on my right wrist, the hand I cross my heart with, that is a replica of the pin. It is my way of 'marking' my experience and always remembering," wrote another.
Alice Hoglan, the mother of Flight 93 hero Mark Bingham, called the effort "thrilling" and "absolutely special." Which is the highest praise.
Hoglan is a woman of remarkable strength, and her son was a shining example of the rugged individualism that defined Flight 93 and its legacy. Bingham was a 6-foot-5 rugby player who was gay. He and his fellow passengers stopped Flight 93 just 20 minutes shy of a strike on Washington, D.C.
In the weeks and months after that day, a makeshift memorial overlooking the crash site was created as thousands of people streamed to Shanksville to pay their respects. They have never stopped.
According to Jeff Reinbold, the memorial project's site manager, almost 1.5 million people have visited the temporary memorial since 9/11.
And although construction of the permanent memorial is now under way (the first phase will be completed by next year's 10th anniversary), the fund-raising efforts for a second phase are continuing, Reinbold told me.
Plans for that expansion include a visitor center and 40 groves of trees representing Flight 93's 40 heroes. Those purchasing Singer's pins will be directly contributing to the completion of this phase by the planners' goal of 2014.
That will mean a permanent record of the bravery displayed by people like Hilda Marcin, another passenger on Flight 93.
For more than a year, Marcin had been planning to move to California to live with her daughter, Carole O'Hare, and Carole's husband, Tom. They were to begin that new chapter of their lives on Sept. 11, 2001.
"These people were not soldiers, yet they fought a war – at 35,000 feet. That has to mean something," Carole told me when I asked what the national memorial will mean to her.
"I think history many years from now will treat it as a defining event in our nation's history.
"But for now, for the families, the purpose of the memorial is to remember, reflect and honor people they loved in a very personal way, realizing it's much bigger than all of us."
To purchase your pin and make your $10 donation to the Flight 93 National Memorial, visit IHateStevenSinger.com, or call 1-800-350-1104.
You can also visit Steven Singer Jewelers at the (other) corner of 8th and Walnut in Center City and buy them in person.