It's Time to End the Veteran Suicide Epidemic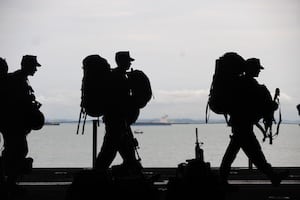 In the last ten years, an average of 20 American military service veterans have died from suicide every day. In that time, a total of 73,000 veterans have taken their own lives. Put into historical context, this number exceeds all lives lost during the Vietnam War by over 14,000. In more recent terms, the number of suicides in one year (7,300) is more than the total lives lost during American military involvement in the Middle East from 2003 to the present. Recent VA studies have identified a primary culprit for many veterans struggles: drug dependence is the leading contributor to homelessness and ultimately suicide. Current pain management protocols that prescribe lots of medicine while soldiers are in the service but often cut them off as soon as they are out may be a key contributing factor to this drugs-to-suicide pathway. Regardless of cause, we as a nation are not honoring our commitment to care for the lives of those that stand and defend us all. While the VA has made great strides in bringing the veteran suicide rate down over the last few decades, the success has plateaued at 20 deaths per day since 2011. Is that the best we can do? Failure to act means that we would simply be accepting that 7,300 veterans will take their own lives every year. The following points are from the VA Office of Suicide Prevention report dated August 2016 (updated November 2017):
This comprehensive analysis of Veteran suicide from 2001 to 2014 confirms that when compared to their non-Veteran peers, most Veterans are at an increased risk for suicide
In 2014, an average of 20 Veterans died by suicide each day. Six of the 20 were recent users of VHA services in 2013 or 2014
Increases in suicide rates are particularly evident among female Veterans and Veterans who do not use VHA services.
To address the higher rate of female suicides, the VA has started opening women's clinics. But the key with female veterans as with all veterans is to get them into a clinic: Six out of the 20 per day are users of the VA health system, and 14 of the 20 are not using the VA. The VA does a pretty good job of preventing suicides when they know about the veteran and their health. This effectiveness raises the question of how do we get veterans to go to the VA.
For many years the benchmark for finding better and more economical health outcomes has been The Dartmouth Institute of Health Policy and Clinical Practice process known as Patient Centered Healthcare. This practice is defined by the active and ongoing partnership between patient and caregiver. The only proven way of accomplishing this engaged-at-all-times relationship is to use intelligent technology for better understanding and accountability before the patient even arrives. The VA would do well to learn from this strategy. Because the challenge is getting veterans in for their initial visits, the solution is not to bring more veterans to the VA, but to bring the VA to the veterans. Outreach needs to be constant and proactive from the day soldiers leave the military.
Fortunately, there's a recent project that provides the model all of the VA needs to take. A recent event focused on innovations, hosted by the Department of Commerce (Census Bureau) in collaboration with the VA, showcased a platform called GetVetsHelp. Using state of the art technology and collaboration, they revealed the capability to simultaneously address opioid abuse, homelessness, and suicide in measurable ways. Conservative calculations show the platform reduces the suicide rate by 1 per day in the first year of implementation. GVH is a HIPPA-compliant, secure, web based system that promises to transform how a veteran accesses his or her VA benefits. Through greater outreach and accessibility, it can identify veterans unknown to the VA, by bringing the VA to them on their phone, tablet or any other method they can access the internet.
Too many of our veterans are dying. While there's a long way to go to address this problem completely, preventing roughly one suicide per day and saving 379 lives saved per year is a good start.
Jon Peterson is a retired Lieutenant Colonel and is now a leadership coach working with CarePartners Plus. If you want to reach him, please email smerconishwriters@gmail.com.